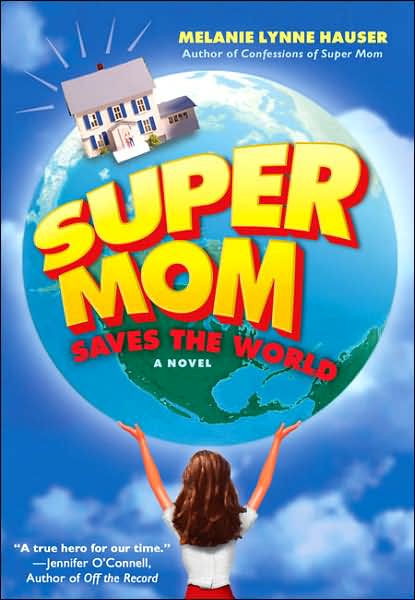 Today I have the pleasure of blogging about one of my favorite GCC authors, Melanie Lynne Hauser. Melanie has a brand new book out called SUPER MOM SAVES THE WORLD, which is a follow up to her previous novel, CONFESSIONS OF SUPER MOM. The first book, which I had the pleasure of reading, is so kickass that a movie studio came along and gobbled up the rights. Alas, that means I can't do one of my GCC Does Hollywood blog entries for her, as it could land Melanie in hot water that her all her superpowers couldn't save her from. So instead I'll give you some highlights and my own 5-star recommendation to buy and read this book.
According to the press release, here's what it's about:
It's six months after the Horrible Swiffer Accident that left her a superhero, and Birdie Lee is still adjusting. For starters, she's hearing voices and having lustful thoughts about Mr. Clean. Then there's the fact that her daughter is suddenly sporting a bright pink streak in her hair, courtesy of her new friend Vienna (and if recent history has taught us anything, we all know that a girl named after a foreign city is going to be trouble). Birdie's son is experiencing his first case of puppy love, her nerdy scientist love interest has just proposed marriage, and her annoying ex-husband is suddenly less annoying. Which can only mean he's up to no good.
But things get even more sinister when her hometown of Astro Park gets Little League fever in a big way. Rabid parents, performance-enhancing Gatorade and a domed stadium on shaky - potentially explosive - ground are just the beginning of Super Mom's problems; throw in a ticked off school janitor and a corrupt mayor, and Super Mom has her hands full. Can one superhero — one mother — struggle to keep her teenagers in tow with one hand while saving her hometown from disaster with the other — while trying to find time for herself as she plans her marriage to her very own Super Man? Only if she's Super Mom!
And if you don't trust me when I tell you that Melanie is a funny and powerful writer, read what other folks have to say:
Smart, zany, and touching... (Karen Quinn, author of The Ivy Chronicles) Never has there been a more appealingly down-to-earth heroine or a superhero with more enviable powers. (Pamela Redmond Satran, author of Suburbanistas) Hauser's quirky characters sparkle brightly as a newly Swiffered floor, and her writing shines like freshly polished glass. (Meg Cabot, author of The Princess Diaries and Queen of Babble)
"(Super Mom Saves the World) provides a welcome break from the proliferation of urban mommy books. For those who rely on Fresh Direct and nannies to run a household, this will read like a foreign text. The women in Hauser's world clean their own toilets, volunteer for the PTA and bake a mean tuna casserole." Kirkus Reviews
"Hauser's sequel to Confessions of Super Mom (2005) is an amusing and sharp critique of the thankless job mothers perform as they juggle home and work. Every mom will want to be Super Mom." Booklist
SUPER MOM SAVES THE WORLD is available at your favorite bookstore, as well as from
amazon.com
,
barnesandnoble.com
,
BookSense
and other online booksellers. To learn more, visit Melanie's website at
melanielynnehauser.com
.
And now here's a bonus. Click below to hear the super adorable Melanie read an excerpt from her first book ...