Happy Friday the 13th. Let's hope it's a lucky day for all.
• Last weekend was the
DimeStories
reading at Barbes in Brooklyn. It was a packed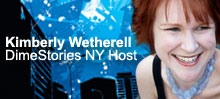 house and the readers were funny, poignant, gripping. A truly talented group! Don't worry if you missed it, because there will be an open mic the first Sunday of every month, starting December 6. Mark your calendar.
• On Tuesday night Mike and I celebrated a big wedding anniversary at a secret romantic location. And that's all I'm going to stay on that. :)
• For the first time in months I have
not
been working on The Cousins' Club. I've changed the focus so
many times by this point that I've lost my way. It's pretty depressing, to tell you the truth. I do still believe there's a wonderful book in there, but I might just have to put it on the shelf for now while I work on something else. (And I do have another exciting idea percolating, so stay tuned.)
• Have you been following the whole price war thing started over at Walmart? They were selling hardcover bestsellers at below market prices and then Amazon and others joined in and it
became a death match. Now it looks like the effects have trickled down to backlist books like mine. Barnes & Noble recently reduced the price of
The Smart One
from $13.25 to $11.92. And
Secret Confessions of the Applewood PTA
is only $10.04. Then Amazon followed suit, reducing
The Smart One
to match B&N's price.
The trade paperback of Applewood
is still $13.25 at Amazon, though if you don't mind a copy with a
remainder
mark you pick one up for just $5.29. Good time to pick up books for the holidays. (cough cough)
• On Wednesday I'll be spending my birthday at my daughter's chorus concert. Can't really think of a better way to spend the evening.
• Congrats to my talented friend Myfanwy Collins on her
Pushcart nomination
! Well done and highly deserved!!
• Love and thanks to all who sent prayers and good wishes on the health of my darling kid, who is doing much, much better.
Enjoy your weekend ...