Heaven help me, my birthday is coming up. This usually makes me want to run and hide, but since my latest book is cake-centric, I decided it would be fun to celebrate by giving it away for free.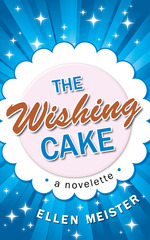 A cross between a short story and a novella, The Wishing Cake is a fresh, original, and surprisingly magical romantic comedy that bakes up an accidental wish.

In this deliciously vivid tale, divorcee Rhea Samuels isn't expecting sweetness to walk into her life. So when an enchanting elderly couple enters the bakery where she works and orders a cake for their 75th anniversary, she's not quite sure what to make of the "wishing dust" they leave her with. Soon enough she discovers it has more power--and surprises--than she ever imagined.

The Wishing Cake is short enough to be devoured in one sitting, rich enough to be savored for years. And from now until my birthday this Sunday, you can download it for free onto ANY device, including your PC. Just click here.

(If you don't have a Kindle, you can read it right now on your Internet browser. Or, you can download a free Kindle app onto any device by clicking here.)
Please grant me my birthday wish and download it today! Thanks!!