Though author Colleen Thompson was good enough to participate in my GCC Does Hollywood blog entry, I want to start off with her personal statement about
THE SALT MAIDEN
because I find it so intriguing:
Some novels begin with a character, others start with a what-if question or a situation, but my sixth romantic thriller, The Salt Maiden (Leisure/Dec. 2007) was inspired by a place I visited a few years back, a sunburned, sand-scoured desert community in the dead center of the least populated county in the U.S. With water too briny for human consumption and land too dry to support any but the hardiest of desert plants, it's an eerily daunting landscape, one that made me wonder, What on earth would bring a person out here?

Apparently my subconscious took it as a challenge, and came up with a Houston veterinarian, Dana Vanover, in search of her troubled missing sister, the birth mother of a child in desperate need of a bone-marrow transplant. In spite of her ambivalence about her sister, Dana braves heat, rattlesnakes, and hostile locals — as well as her attraction to the handsome sheriff who wants her gone.
Doesn't that sound fantastic? No wonder the book is getting tremendous buzz. (To see for yourself, click here to read some review excerpts.)
Now here's how Colleen would pitch the book to our fictional Hollywood producer:
The Salt Maiden is the story of a woman's quest to save her missing sister. With a child's life hanging in the balance, Dana Vanover refuses to let anything stop her, from rattlesnakes to small town hostility to her desert-hot attraction to the sheriff determined to run her out of town.
And here's what she said when I asked who her dream cast might be: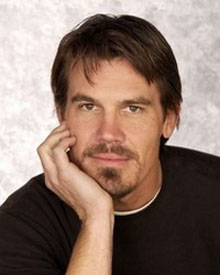 That's a tough one. Maybe Josh Brolin in the role of Sheriff Jay Eversole since I think he'd do a great job of playing a tormented but honorable hero.
Hilary Swank, I think, could make a great Angie Vanover, as she has the depth to play this deeply-conflicted but tenacious woman.
THE SALT MAIDEN
is available in paperback at your favorite chain or
independent bookstore
. To buy online, visit
amazon.com
,
barnesandnoble.com
or any cyber bookseller. For more information, visit Colleen's website at
colleen-thompson.com
.