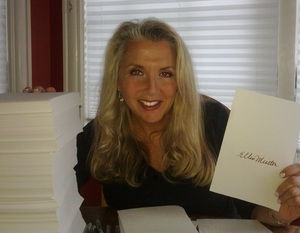 It was one of those Be Careful What You Wish For moments.

When my publisher told me that FAREWELL, DOROTHY PARKER would be published in paperback in early December, I asked if there was any way I could sign each copy of the first printing, so that everyone who pre-ordered would be guaranteed to get an autographed book.

A few weeks later, the cartons started showing up at my door, and each one contained thousands and thousands of blank pages. My job was to sign every last one, then ship them back to the printer to be bound into the book.

Can you say writer's cramp?

But it's okay, because I'm all done, and the feeling is starting to return to my fingertips.

If you haven't yet read FAREWELL, DOROTHY PARKER, I hope you're eager to see what all the fuss is about. This book was a true labor of love—almost a lifetime in the making—and I'm excited to share it with you. I also hope you'll want to own an autographed copy. And if you're interested in giving it as a gift, rest assured it will arrive in time for the holidays.

To lock-in your autographed copy, please pre-order today. You are guaranteed to get a signed copy no matter where you order from, but please don't delay. Here are some links:
Amazon
•
Barnes & Noble
•
Books-A-Million
•
IndieBound
•
Walmart
New cover!
The paperback edition has a brand new beautiful cover and includes a readers' guide for book clubs!

Plus, this is not an ordinary mass market paperback, but a collectible trade paperback edition, beautifully printed. I hope you'll order yours today and ensure that you get a signed copy.

Thank you from the bottom of my blistered fingers!
Ellen