Big excitement in the Girlfriends Cyber Circuit--one of our own, Allison Winn Scotch, has just made The New York Times Bestseller list. Way to go, Allison!
I'm hugely excited about the book itself. At first, I thought my attraction for
TIME OF MY LIFE
might be kind of self-indulgent, as the plot shares a common thread with my novel-in progress. But learning that so many thousands of readers are flocking to it validates my feelings.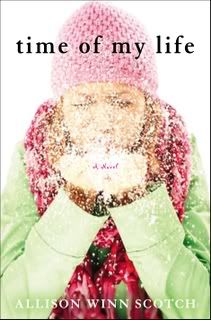 To see for yourself, check out the flap copy:
Most readers have had that "what if" person in their pasts, the one they could have ended up with, or maybe the one that they fantasize about even after they've married or moved on. In Allison Winn Scotch's latest novel,
TIME OF MY LIFE
, (Shaye Areheart Books; October 7, 2008), she explores what might happen if readers could live their lives all over again, and change the course of history.
Jillian
Westfield
has the perfect husband, the perfect baby, and the perfect home in the suburbs, but sometimes she finds herself wondering about the life she left behind. A few short years earlier, she was living with her undeniably attractive but unreliable boyfriend Jackson, working a demanding job at an ad agency, partying too much, and living in a less than perfect
New York
apartment. But those days were full of possibility and free of diaper changes, trips to the grocery store, and endless days fulfilling only the needs of her daughter and husband. Now, discontented in her faltering marriage, Jillian can't help but think about what her life would have been like if she hadn't married Henry, quit her job to be a stay-at-home mom, or spurned her mother's attempts to reconcile after two decades of silence. What if she'd stayed with
Jackson
in their run-down apartment and tried a little harder to make their relationship work? What if she'd answered her mother's letter? What would her life be like now?
One morning, Jillian gets a chance to find out. She wakes up in her old apartment, right in the middle of her life as it was seven years ago, before she'd left
Jackson
and her job, and ignored her mother's letter. With 20/20 hindsight, Jillian has the chance to discover "what if" once and for all – and to decide which life she really wants.
Sounds amazing, doesn't it?
Allison agreed to answer some interviews questions about the book, so here goes ...
How would you describe the genre of
TIME OF MY LIFE
, and what pulled you toward it?
I write what the industry deems "commercial fiction," or "upmarket women's fiction," which, in less industry-type speak, means fiction that appeals to people who want fun, absorbing, fairly-quick reads, the type of read that you'd find reviewed in People Magazine. (Which, incidentally, Time of My Life was!) I'm pulled toward this genre because this is the stuff I read. I'm a busy working mom to two young kids, and when I read a book, I want to be sucked in and entertained. I don't want to have to reread every word or sentence and try to keep my eyes open after four pages. I want something that will make me think, but won't take up too, too much energy because, frankly, I don't have that much energy to spare!
What can you tell us about the genesis of the idea for this book?
I knew I wanted to write a book that dealt with time-travel in some way…the last episodes of Felicity were among my favorite hours of television EVER, and I was drawn to doing something like that. But I didn't know how to sort it out in my mind. In fact, I mentioned something to my agent about "time-travel" for my next book, and I think she thought I was nuts! But then one afternoon while this was on my mind, my best friend called while she was on vacation in a city of her ex-boyfriend, and she said, "I'm so weirded out…I can't stop thinking about what my life might have been like." Then we had one of those intimate life conversations that you can only have with your closest friends about her what-ifs and my what-ifs, and how this was all very normal, even though people didn't really talk about it. We hung up, and I headed out for a run, and bam, the idea, characters and plotlines just presented themselves very clearly. I came home, wrote what are now the first 14 pages, and sent them off to my agent, who flipped for them. I think, as so many of us get older and look back on our younger years with nostalgia, it's very easy (and normal) to consider what the other possibilities could have been – and I wanted to explore that?
Do you have a favorite character in this book? If so, why?


I'm not sure that I had a favorite character, but I certainly had (and have) favorite scenes, and those scenes are when Jillian, my protagonist, runs into her future-husband in her former life. (Got that?) It was so much fun to envision how panicked and overwhelmed and confused she'd be...and even now, when I reread those scenes, I read them with a smile.
Did you have any input on the cover, and are you happy with the finished product?
I had input in so far as my publisher asked me to send them images of other book covers that I liked. They also asked me for any ideas – symbolism, photos, etc – that I might have, but to be honest, I'm good with words, not visuals, and I trusted that the art directors were hired for a reason. So I did certainly send them images of other books, but I left the actual interpreted stuff to them. And I'm so glad! My cover, in my opinion, is incredible, and never in a million years could I have conceived of it: it's not a literal interpretation of anything in the book, but conveys exactly the spirit of it.
Do you pay attention to book reviews? If so, has there been any particular review that made your heart do a little dance?
Um, yes. Just the other day, I was reading a review and wishing that I had impulse-control, like those celebrities who claim that they don't read what people say about them online. I wish, wish, wish this could be me, because, while most reviews are wonderful, there are some, of course, that are eviscerating, and those are never fun. The review that truly flipped me out was the one in last week's People. We didn't know it would be in there, so after I dropped my son off at school, I stopped at the grocery store and decided to flip through the newest issue to see what books were reviewed. Well, MINE WAS!! I completely lost it in the check-out line and nearly hurdled the conveyor belt to hug the cashier! I don't remember anything from seeing the review to coming home and putting my groceries away! In fact, later that afternoon, I went into a panic because I had no recollection of putting the ice cream in the freezer and figured that it had melted on my kitchen counter…but fortunately, when I checked, I had…it was like I was in a total black-out from the People review!
Ha! I adore your reaction to the People review! I would have been the exact same way. Thanks for answering my questions, Allison, and again ... congrats on being such a smashing success
.
I hope you'll look for TIME OF MY LIFE the next time you visit your favorite chain or
independent
bookstore. To buy online, visit
amazon.com
,
barnesandnoble.com
,
borders.com
or any cyber bookseller. For more information, visit Allison's website at
allisonwinnscotch.com
.