Here's the latest ...
• Tomorrow (Saturday), I'll be at the Long Island Film Expo, along with authors Debra Markowitz and Saralee Rosenberg, signing books and saying hello. The event goes from 2-6 (if we can hold out). It's at the Bellmore Movies, 222 Pettit Avenue - Side entrance, Bellmore, NY, Phone: (516) 783-3199.
Click here for more info
.
• The big excitement last weekend was a trip to Six Flags Great Adventure in NJ. Hell of a drive, but we had a blast.
• I'm back to work on the new novel, and think I might finally be getting my mojo back. Stay tuned.
• Still no title or pub date on book three. Am I getting frustrated and paranoid? Yes I am.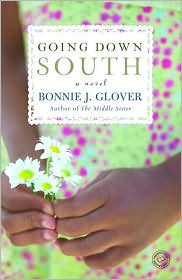 • Had lunch this week with
Bonnie Glover
, a brilliant author who's been a cyber pal for several years now. Bonnie's smart, funny and down-to-earth ... loved hanging out with her! Please check out
her latest book
,
GOING DOWN SOUTH
, which earned her a nomination for the NAACP image award.
• AWESOME night out last night at
The Breakers
in Bayville with my old high school buddies. Great food, cool sounds, excellent company. Thanks for putting it all together, Roch!
• Last week I had a bit of serendipity. I was in the midst of making plans to take a trip to Rye, NY to scope out a location for my work-in-progress, when I heard from an old college pal who had moved away, but was in that area and wanted to meet for lunch.
So we hooked up, and she was kind enough come along for the ride. First we visited the site for my book, and t
hen took the short drive across the border into Greenwich, CT, to visit
Diane's Books
, a truly outstanding indie. Author
Andrew Gross
had alerted me to the store when they promoted THE SMART ONE in their newsletter. Not only that, but he actually called to let them know I was coming. Is he an angel or what? (Andrew's latest, DON'T LOOK TWICE, was recently nominated for Thriller of Year. As far as I'm concerned, he earns the first place prize for Kindest Author.)
Mega shout-out to
Diane's Books
. I got such a warm welcome there, and was so impressed with the store and the owner, Diane Garrett. If you're in that area, I hope you'll stop in ... maybe even buy a signed copy of THE SMART ONE. While you're there, pick up one of Andrew's breathless page-turners.
Have a great weekend ...