• Big week for me here, as I finished my first complete draft of FAREWELL, DOROTHY PARKER. I edit relentlessly as I go along, so it's a pretty tight draft, and I'm happy with it. After I hear from my beta readers, I'll take one last pass at it before sending it to my editor.
• Speaking of Dorothy Parker, I created
a fan page for her on Facebook
. Would love it if you gave it a
like
click. Thanks!
• Is it possible my baby boy is turning 16 tomorrow? How did this happen so fast? I'm feeling all achy and nostalgic.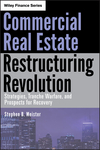 • My brother's book on commercial real estate is out, and here's what CNBC's Larry Kudlow had to say about it: "Stephen Meister has a profound understanding of the world of real estate. Anyone who doesn't read his book will be operating without the benefit of Meister's penetrating insights. His book casts a bright light into many of the dark corners of our real estate economy and untangles complex governmental issues. Now he has put his vast knowledge into a readable, cogent, and exciting book. I strongly recommend it."
He got another blurb from someone else you might have heard of, Donald Trump: "Stephen Meister has written an insightful and comprehensive book that explains what happened during the financial crisis and offers possible solutions to what we're facing now. CRERR is a fast, concise read, and it's recommended reading - no matter what your business may be."
Click here for ordering info
.
• Tonight we're taking the kids to a Broadway show and I'm a little panicky about the weather. Fingers crossed.
Have a great weekend!