Time for another ersatz Hollywood look at a Girlfriends Cyber Circuit book. This time it's a dynamic debut from Diana Peterfreund,
Secret Society Girl
.
Here's Diana's pitch to our fictional studio:
A perfectly normal Ivy League co-ed is one of the first female members tapped into a notorious, powerful secret society. Our smart, sassy heroine has to take on society alumni who threaten to destroy those involved in the new guard. It's a funny take on the usual secret society yarn.
And here's how Diana would cast it:
I'd probably cast Amber Tamblyn (Joan of Arcadia, Sisterhood of the Travelling Pants) as the heroine, Amy, because she's got a great combination of strength, smarts, and vulnerability.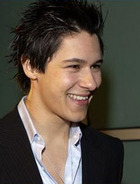 Oliver James (Raise Your Voice, What a Girl Wants) has the right look for Brandon, as long as he can pull off an American accent. Maybe Roger Fan (Annapolis) or John Cho (Harold and Kumar Go To White Castle). I love Cho! I'd need someone devastatingly handsome, charming, and bad boy for George. Orlando Bloom might be a bit old for the part, but along those lines would be good.
I'd love Kristen Bell for Clarissa, though she may not want to play a villainess. Still, Rachel McAdams rocked a similar roll in Mean Girls not too many years ago.
Someone like Shawn Ashmore (X Men) would be good for Malcolm, and then Christian Coulson (Harry Potter and the Chamber of Secrets) is exactly who I see every time I think of Poe, so he'd better be able to pull off an American accent.
Secret Society Girl
is in stores now. You can also order it from any online bookseller. For more information, visit Diana's website,
secretsocietygirl.com
.