Publishers Weekly gave Lisa Kudrow a big thumbs up for her narration, and I couldn't be more thrilled. Actually, I could, because they called the book "chick lit," which is inaccurate. ("Chick lit" refers to a very distinct segment of the women's fiction market--books about young, urban, professional protagonists. My book doesn't qualify in any way. I don't mind the designation, but in the publishing biz it's a marketing differentiation and Publishers Weekly should know that.)
Fortunately, they say enough nice things to make up for it. Here's the review: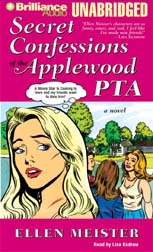 Secret Confessions of the Applewood PTA
Ellen Meister, read by Lisa KudrowKudrow shows her deft comedic skills in her audiobook debut about the machinations and scandals of rival PTA factions in a small town whose school may be used for a George Clooney movie. Kudrow reads with a light comic tone but never goes over the top, and the warmth in her voice makes the characters sympathetic and likable. Kudrow gives each character a distinctive voice: raspy Ruth, whose confident, wisecracking exterior hides the pain of caring for a husband disabled by a stoke; shy, timid Lisa and her embarrassingly loud, brassy, alcoholic mother; conflicted Maddie, trying to decide whether to work on her troubled marriage or have an affair; and their nemesis, snooty hilarious bitchy PTA president Suzanne. The comic tale is rooted in reality that keeps the reader sympathetic to the protagonists even during the plot's most absurd twists (e.g. during a midnight covert operation, the women expectedly come upon the PTA president engaged in a menage a trois). By turns hilarious and poignant, this is chick lit that works perfectly on audio.
Ordering links:
Unabridged, on CD
From Amazon
From Barnes & Noble
From AudiobookStand.com
Unabridged, on MP3 CD
From Amazon
From Barnes & Noble
From AudiobookStand.com