It feels like forever since I've done one of these Girlfriends Cyber Circuit Goes Hollywood blogs. Nice to get back to it with one of the most popular authors in our group, E. Lockhart, who writes delectable Y.A. books that fans go insane over.
Her newest is THE BOY BOOK, which is a sequel to the beloved THE BOYFRIEND LIST. If E. had the opportunity to pitch it to a Hollywood producer, here's what she'd say:
Teenage girl, social butterfly turned social leper after the ignominious demise of her first major love relationship. She looks over the secret notebook she and her ex-friends wrote about how to deal with the opposite sex, and tries to follow its advice while flirting with the guy who dumped her, a guy who wants her, and guy she isn't supposed to want.
And here's how she'd cast it:
Well, all these actors are TOO OLD to play teenagers -- and everyone important in both The Boyfriend List and The Boy Book is about 16 years old. But they're the best I can do ...
Roo, my heroine, is smart, neurotic, and prone to footnotes. Zoey Deschanel.
Noel, her friend-boy maybe boy-friend, a punk-rock prep school kid who's got a quiet way with words: Lukas Haas. (Did you see him in Brick? amazing)
Jackson, the no-good ex who's still kinda good: James Spader.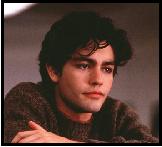 Angelo, with whom there are kissing adventures: Adrian Grenier.
If my daughter was a smidge older, I'd run out and buy her all of E. Lockhart's books! I KNOW she's going to love them. If you know a tween or teen girl who loves to read, you really should check these out. THE BOY BOOK is in stores now. For more information, visit E. Lockhart's website at
theboyfriendlist.com
.